It's pretty much what it says on the tin. A polytunnel is a steel framed tunnel with a polythene cover used by gardeners and commercial growers for growing vegetables, fruits and flowers. You may also see polytunnels referred to as polyhouses or hoophouses.
Polytunnels work in the same way as a greenhouse does. They create their own climate so can be used to grow crops which wouldn't ordinarily flourish in the UK. But, polytunnels are often considered a more cost-effective and versatile solution than a traditional greenhouse.
Polytunnels are available in different sizes and styles. But because they can be purchased in variouslengths, they're suitable for both domestic and commercial use. Home gardeners will settle for a smaller polytunnel, perhaps 10x12' for example, whilst nursery owners will look at anything up to 18x90'. Of course, commercial growers are likely to have a number of different polytunnels.
Are polytunnels different to greenhouses?
They do pretty much the same things. Though larger polytunnels are often used for storage and can house harvesting machinery. But in essence each structure creates a microclimate for growing plants and crops.
Where the two structures do differ is the cost. Polytunnels are far more affordable than a comparable sized greenhouse. Tunnels are also easier to erect as the base doesn't have to be so exactly flat as required by a greenhouse. To balance things it up it has to be said that traditional greenhouses are more esthetically pleasing than a polytunnel.
How big are polytunnels?
Here at Direct Plants we manufacture our own polytunnel kits in various lengths and widths from 10-foot-wide which are ideal for smaller spaces right up to 18 feet wide polytunnels which are perfect for commercial growers. Our most popular size though is 14 feet wide and is available in both straight or the more traditional curved designs.
The difference between straight and curved polytunnels is that straight sided tunnels provide more head height and working room at the sides of the structure.
How easy is it to build a polytunnel?
Although it isn't exactly child's play erecting a polytunnel won't be beyond the skills of most. Although you won't be able to build a tunnel on your own. You'll certainly need help but you can see the process here.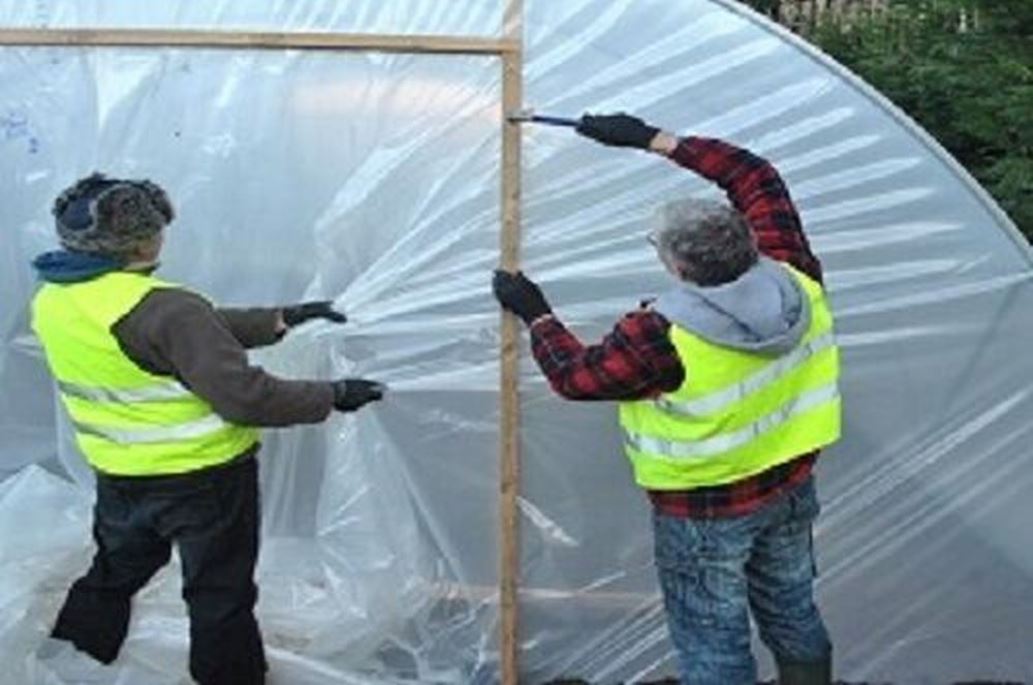 Are polytunnels secure?
After 'what is a polytunnel?' The second most frequent question we hear is; 'Are tunnels secure in windy conditions?'
It's an understandable concern. On first sight polytunnels don't appear to be the most solid of structures. But looks can be deceiving.
Obviously, the tunnel needs to be properly anchored to the ground when it's built. But the advances in technology and the way the hoops are spaced within the polytunnel along with strategically placed bracing bars provide a surprisingly robust and solid structure. One which is able to withstand storms and the extreme weather we often see in the UK. However, there is a caveat here...
We manufacture our polytunnels right here in our Norfolk workshops. We use the strongest galvanised high tensile steel and the highest-specification polythene covers. We absolutely guarantee the quality of manufacture and weather resistance of our polytunnel kits. Our frames will last for over 50 years and even the covers are guaranteed for five years but are expected to last much longer.
However, there are many cheap imported products available on the internet which are vastly inferior in quality. Those tunnels will not resist the worst of the weather and are of little use to anyone. Please do be careful when you purchase a polytunnel and perform due diligence on the seller and supplier.
What do you get when you buy a polytunnel?
Polytunnels are sold as kits. They need two or three people to put them up but do allow yourself plenty of time to do so. Included in the kit is all the steel required for the internal structure including the hoops and storm bracing bars. All the fixings and clamps are included and of course the polythene cover is also in the kit. You'll have to purchase the door frames separately but again those kits contain everything you need.
We manufacture the Direct Tunnels brand of polytunnels in our own workshops and offer a fast delivery service in the UK. You can see our full range of tunnels here.